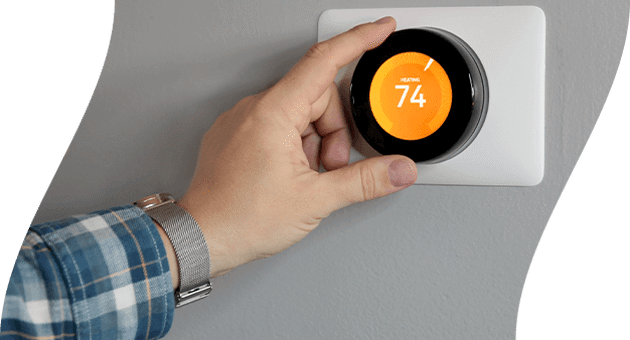 FURNACE SERVICES IN CHELMSFORD
A Way to Efficiently Heat Your Home Up in Westford, Littleton, Groton, and the Surrounding Areas
Have you ever experienced an uncomfortable home because your heating system is not working properly? Does the cold weather in the winter months make you want to stay indoors and bundle up with blankets, sweaters, and heavy clothing? If so, then it is time to consider a new gas furnace installation.
Gas furnaces are a great way to keep your home warm and comfortable throughout the colder months of the year. These reliable devices are designed to efficiently heat your space, and they can help reduce your energy bills over time since they operate more efficiently than other kinds of heating systems. However, it is important to find a trusted HVAC contractor who can help you choose the right furnace for your home and install it properly.
At Village Home Services, we have years of experience installing gas furnaces in homes throughout the area of Chelmsford. Our expert technicians can help you choose a furnace that meets your needs, and they will ensure that it is installed quickly and properly, so you can start enjoying warm and comfortable temperatures right away. 
Stay Warm with a High-Efficiency Furnace
Is your current furnace struggling to keep your home warm during the cold winter months? It might be time to upgrade to a high-efficiency furnace. These modern furnaces offer improved heating performance, energy savings, and enhanced comfort for your home.
Benefits of a high-efficiency furnace include:
Lower energy consumption: High-efficiency furnaces are designed to use less energy, which can lead to significant savings on your heating bills.
Reduced carbon footprint: By using less energy, high-efficiency furnaces help reduce greenhouse gas emissions and contribute to a more sustainable environment.
Consistent and even heating: High-efficiency furnaces provide more consistent heat distribution throughout your home, eliminating cold spots and ensuring optimal comfort.
Quiet operation: These furnaces are designed to operate quietly, so you can enjoy a warm and peaceful home without the noise.
Longer lifespan: High-quality components and advanced technology in high-efficiency furnaces contribute to a longer lifespan, reducing the need for frequent replacements.
At Village Home Services, our skilled technicians can assess your current furnace and recommend the best high-efficiency options tailored to your home's heating needs and budget. 
CAN YOU DIY A GAS FURNACE INSTALLATION?
It's common to wonder whether you can perform your own gas furnace installation, especially if you are handy and comfortable around mechanical systems. While there may be some DIY tutorials out there for installing furnaces, it is always best to leave this task to the professionals.
There are several reasons why it's best to hire a professional HVAC contractor for your gas furnace installation. For starters, installing a gas furnace requires specialized tools and training, as well as the right knowledge of how to follow local building codes. A professional HVAC contractor will have all these things, so you can feel confident that your gas furnace is installed safely and correctly.
Another thing you need to consider is safety. Improper installation of a gas furnace could lead to dangerous situations or even fires, which could be potentially fatal. You might end up paying more in the long run if your furnace is not installed properly. This is why it's always best to leave this task to an experienced professional.
Lastly, the time and effort involved in performing a gas furnace installation can be significant. A professional HVAC contractor will know how to get the job done quickly, so you can start enjoying the benefits of your new furnace sooner. If you're ready to experience reliable and comfortable heating in your home, contact Village Home Services today for more information about our gas furnace installation. We're always ready to help!
Don't miss out on the benefits of a new gas furnace - contact us today to learn more!
WHAT TO EXPECT FROM A GAS FURNACE INSTALLATION
With more and more homeowners choosing gas furnaces to heat their homes, it's essential to choose a company that knows exactly what they're doing. You can't just expect anyone to install a gas furnace in your home - you need someone who knows the ins and outs of this process.
Luckily, Village Home Services is a trusted HVAC contractor with years of experience installing gas furnaces in homes throughout the Westford area. We understand how important it is to have a reliable heating system in your home, and we strive to provide excellent service every time.
Here's how our experts do gas furnace installation:
Step 1: We'll help you choose the right furnace for your home and budget needs. Whether you're looking for a high-efficiency model or something more basic, we can work with you to determine which type of furnace is best suited to your needs. Our experts are well-versed in all the latest gas furnace models that are on the market today and can help you choose one.
Step 2: Once we've determined which type of gas furnace is best for your needs, our technician will carefully remove the old furnace from your home. This step is crucial for ensuring a smooth installation process, so there are no unexpected surprises along the way. We use specialized tools such as a crane if we need to, as well as special straps, to carefully remove the old furnace.
Step 3: When your old furnace has been removed, our technicians will thoroughly clean the area where your new furnace will be installed. We don't want any dirt or debris getting into your new gas furnace and causing problems along the way, so this is an important step in installing a new furnace. A pressure washer along with a mixture of chemicals and water is typically used for this step in our process.
Step 4: The next step to installing a gas furnace involves connecting the vent pipe, or chimney pipe, where it's going outside. Once that has been connected, our technician will then connect all the new wires and cables to your new furnace - and then it's ready to go!
Step 5: The final step in the process of installing a new gas furnace involves testing the furnace and making sure that it's working properly. After we've thoroughly inspected your new furnace, we'll test it again before we leave to ensure that it is working correctly. Before you know it, you'll be enjoying the benefits of a new furnace for years to come.
A HASSLE-FREE PROCESS MADE JUST FOR YOU
Long lines and hectic schedules are a thing of the past! Our goal is to make everything about working with us simple. Our skilled technicians will show up on time and finish the job efficiently with the least amount of disruption to your daily schedule.
Here is a brief rundown of how we operate:
Talk to Our Experts: Before we start the project, give our experts a call to have a discussion about your requirements, concerns, and budget. We'll work with you to determine the best course of action and create a customized plan that's right for your needs.
Get a Free Estimate: We believe in transparency. That's why we provide a free, no-obligation estimate before any work begins. Once you choose a plan, our representatives will give a detailed list of what you can expect, and the cost involved.
Sit Back & Relax: When everything is set, our technicians will arrive on time and get to work. You don't have to lift a finger because we'll do the heavy lifting and clean up after ourselves. Your only job is to sit back and relax while we work our magic!
While there are many companies that offer HVAC services, Village Home Services is always the first choice for our customers. We take pride in offering affordable prices, reliable service, and the latest technology to make sure you're satisfied. Residential and commercial properties alike turn to us for all their HVAC needs and are never disappointed. Our team is dedicated to providing you with the best customer experience possible and will work tirelessly so that your HVAC system runs smoothly for years to come.
No company in Chelmsford or the surrounding areas offers a better combination of affordability and quality than Village Home Services. The determination we show in everything we do is what sets us apart. From our customer-focused approach to the outstanding craftsmanship we put into each job, Village Home Services has earned a reputation as one of the most trusted companies in the region.
Contact us today and learn more about how we can help you with your HVAC needs!