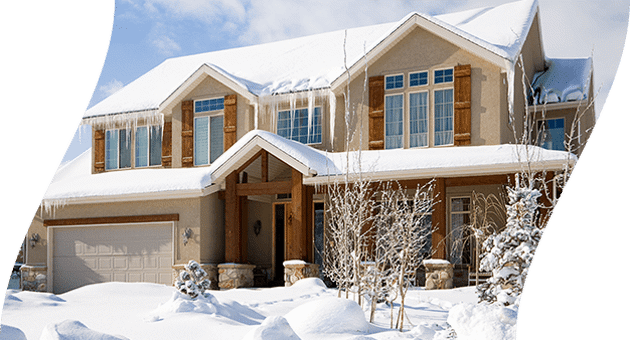 SNOW MELT SYSTEMS - DON'T WORRY ABOUT A THING THIS HOLIDAY!
The hassle of piles and piles of snow on drives and walkways can be one of the most frustrating things about winter. Not only does it make it difficult to get around your property, but it can also be a safety hazard. The risks of slipping and falling increase exponentially when you're forced to navigate a property that is covered in snow. So how can you keep your drives, walks, and patios clear of snow this winter? One option that many homeowners are turning to is a snow melt system.
A snow melt system uses cables buried underneath the surface of driveways, walkways, and patios to keep snow and ice from piling up. These cables are heated at all times, which allows them to melt any ice or snow that comes into contact with them. This keeps your property clear of snow without having to spend hours manually clearing it yourself.
There are a few different options when it comes to installing a snow melt system and with Village Home Services, you can be confident that you will get the right system for your property. Village Home Services has expert installers that can quickly and easily install one of these systems so that you can start enjoying winter without having to deal with the hassle of the snow.

THE BENEFITS OF SNOW MELT SYSTEMS
Many people think that installing a snow melt system is a waste of money and energy. Of course, you can always go for the old-school method and just wait for the snow to melt on its own. But there are several benefits of investing in a snow melt system that makes it worth considering.
One benefit is that you won't have to worry about your property becoming covered in compacted snow and ice, which could eventually lead to more serious damage such as cracking or breaking. Snow may be made of water, but the pressure of it can cause a lot of damage to your property. Moisture is also a breeding ground for mold, so having a constant drainage system like a snow melt system can greatly reduce your risk of developing mold on your property.
Another benefit is that you will never have to shovel your driveway again. This might not seem like a big deal, but anyone who has had to spend hours shoveling snow only to discover that the next day all of the snow has returned knows just how frustrating this process can be. Imagine never having to deal with that again--voila, a snowmelt system can make that possible.
Lastly, snow melt systems keep your property safe and clear all winter long, even during those freezing temperatures when snow seems to be sticking around for good. This can give you peace of mind that your property is protected during the colder months of the year and allow you to focus on enjoying winter instead of worrying about how you're going to get through it.
HOW OUR PROFESSIONALS INSTALL SNOW MELT SYSTEMS
One of the things that make us the best in the area is how precise we are with our snow-melt systems. If the cables are not buried at the right depth or if they aren't placed in the right locations, your system may not be as effective as it could be. Our professional installers will make sure that everything is set up correctly, so you can start enjoying winter without having to worry about piles of snow.
But how do we do this? Check the process we've outlined below for a better idea of how we install snow melt systems on your property:
STEP 1: INSPECTION OF PROPERTY
Before we begin, we will check the entire area on which we will be installing the snow melt system. This includes reviewing any potential obstacles that could get in the way, like trees and landscaping features. We will list everything down, and we will make sure that we create a plan for each obstacle.
STEP 2: CREATING A PLAN
After we have inspected the property, we will create a plan that involves choosing where to install cables and how to lay them out. This plan will be tailored to your property and will ensure that your snow melt system is as effective as possible in keeping it clear from snow. During this stage, our experts will communicate with you. You can provide any input or ask any questions that you may have about the installation process.
STEP 3: INSTALLATION AND SYSTEM TESTING
Once we have created a plan for your snow melt system, our team will get to work installing it and testing it to make sure that everything is working properly. This installation involves laying down the cables, connecting them to a controller, and burying the cables deep in the ground. Our installers will also test your system by turning it on so that you can see how effective it is at keeping snow from accumulating on your property.