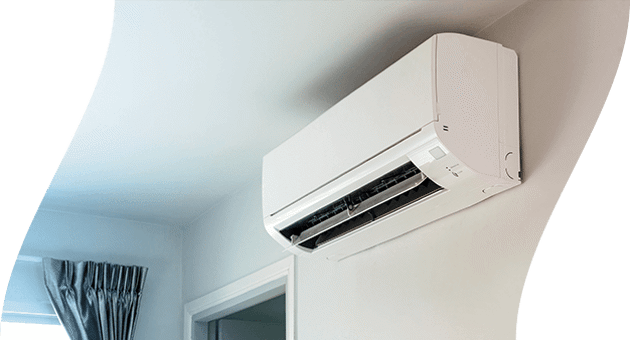 MINI SPLIT SYSTEM SERVICES IN CHELMSFORD
Mini Split Service Provider in Westford, Littleton, Groton, and the Surrounding Areas
For installation, repair, and servicing of mini split heat pumps, look no further than Village Home Services! We have been in the business for over 10 years and are highly qualified to provide you with top-quality service. Our experienced technicians will work with you every step of the way, from initial consultation to final installation, to ensure that you get the best possible results.
Mini split heat pumps are the leading choice when it comes to heating and cooling systems in a number of residential properties. It's an effective and efficient way to keep your home comfortable all year long. This type of unit comes in a variety of sizes and styles to suit the needs of any space and can be installed in places where a traditional HVAC system can't go.
WHAT'S THE DIFFERENCE BETWEEN A MINI SPLIT SYSTEM AND A TRADITIONAL HVAC SYSTEM?
There are a number of key differences between traditional HVAC systems and mini split heat pumps, and if you're planning to install a heating and cooling system in your home, it's important to understand these differences before making a decision.
Traditional HVAC systems include a central unit, which houses the compressor and fan. This unit is connected to ductwork that supplies warm or cool air through vents in each room of the house. Mini split heat pumps, on the other hand, do not require ducts and instead use a small wall-mounted unit to provide heat or cool air directly to the desired room.
Mini split heat pumps are typically smaller and more compact than traditional HVAC systems, making them ideal for spaces where a normal unit simply won't fit. Additionally, they are typically more energy efficient, which can help you save on utility costs in the long run. The reason behind this is that mini split heat pumps can provide both heating and cooling, whereas traditional units typically require two separate systems.
Another major benefit of mini split heat pumps is that they are much easier and faster to install than traditional HVAC systems. If you're running a business and don't want any delays in operation or perhaps a family who just doesn't want to deal with the stress of a disruptive installation, mini split heat pumps are a great solution.
Give us a call at (978) 733-9593 today to learn more about our offers. We'll be more than happy to answer any questions you may have and provide you with an estimate.
WHY YOU SHOULD TRUST A PROFESSIONAL TO COMPLETE YOUR MINI SPLIT SYSTEM SERVICES
You might think that you can save some money and install a mini split heat pump on your own, but this is a job that should be left to the experts. Of course, you can always check the internet for guides on how you can install a mini split heat pump on your own, but keep in mind that these guides may not be the most accurate or up to date. Furthermore, inexperience can lead to problems down the road, potentially causing damage and requiring repairs to your system.
Mini split heat pumps are complex, they have a number of delicate parts and components, which can be risky to work with if you don't have the right training. In addition, you need specialized tools and equipment to install and service a mini split heat pump, which you most likely don't have. An example would be a vacuum pump, which is used to remove moisture from the system. Without this tool, your mini split heat pump will not work efficiently and will potentially break down more often than necessary.
Time is another factor to consider. Although it may seem like a good idea to save money by installing your own mini split heat pump, the time it takes to complete the installation will cost you more in the long run. This is because you'll have to spend a lot of time researching, acquiring the necessary tools and equipment, and trying to figure out how to install your own system. You'll miss out on valuable time that could be spent working or just doing something fun.
A HASSLE-FREE PROCESS MADE JUST FOR YOU
Long lines and hectic schedules are a thing of the past! Our goal is to make everything about working with us simple. Our skilled technicians will show up on time and finish the job efficiently with the least amount of disruption to your daily schedule.
Here is a brief rundown of how we operate:
Talk to Our Experts: Before we start the project, give our experts a call to have a discussion about your requirements, concerns, and budget. We'll work with you to determine the best course of action and create a customized plan that's right for your needs.
Get a Free Estimate: We believe in transparency. That's why we provide a free, no-obligation estimate before any work begins. Once you choose a plan, our representatives will give a detailed list of what you can expect, and the cost involved.
Sit Back & Relax: When everything is set, our technicians will arrive on time and get to work. You don't have to lift a finger because we'll do the heavy lifting and clean up after ourselves. Your only job is to sit back and relax while we work our magic!

While there are many companies that offer HVAC services, Village Home Services is always the first choice for our customers. We take pride in offering affordable prices, reliable service, and the latest technology to make sure you're satisfied. Residential and commercial properties alike turn to us for all their HVAC needs and are never disappointed. Our team is dedicated to providing you with the best customer experience possible and will work tirelessly so that your HVAC system runs smoothly for years to come.
Contact us today and learn more about how we can help you with your HVAC needs!