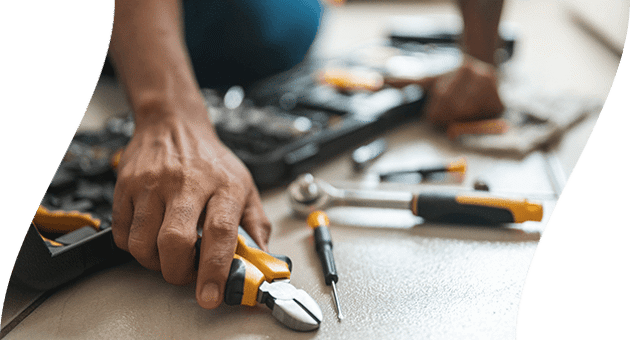 Lowell Plumbing, HVAC & Electrical Services
Proudly Serving Local Residents & Business Owners
As a locally owned and operated company, Village Home Services is honored to be your first choice for all things plumbing, electrical, and HVAC. With our comprehensive range of services, we are committed to meeting all of your home service needs. Our professionals undergo extensive training and stay up to date with the latest trends and advancements in our industry to provide you with the cutting-edge solutions that you expect and deserve.
At Village Home Services, we never cut corners when it comes to quality and safety, ensuring that every job is done right the first time. Trust us to deliver exceptional service and exceed your expectations every step of the way.
Call (978) 733-9593 to schedule a plumbing, HVAC, or electrical service in Lowell.
There for You 24/7
Our team understands the importance of being available for our customers when they need us the most. That's why we offer 24/7 plumbing, electrical, and HVAC services. Our goal is to be there for you, no matter the time of day, to quickly address any issues with your systems. We have the expertise and knowledge to diagnose and resolve problems efficiently, getting your systems back up and running smoothly in no time. Call Village Home Services for fast and reliable emergency repairs.
How We Can Help You
At Village Home Services, we pride ourselves on being your ultimate one-stop shop for all your plumbing, electrical, and HVAC needs.
We offer a comprehensive range of services, including:
Plumbing: From leaky faucets to complex pipe installations, our highly skilled plumbers are equipped to handle any plumbing issue efficiently and effectively. We offer services such as drain cleaning, sewer line repairs, water heater installations, and much more.
Electrical: Our expert electricians are well-versed in all aspects of electrical systems. Whether you need a panel upgrade, lighting installation, or wiring repairs, we have the expertise to provide safe and reliable electrical solutions for your home or business.
HVAC: When it comes to heating, ventilation, and air conditioning, we have you covered. Our trained technicians specialize in HVAC installations, repairs, and maintenance, ensuring optimal comfort and energy efficiency in your space. We can assist with AC repairs, furnace installations, duct cleaning, and more.
With Village Home Services, you can expect personalized solutions that address your unique needs. Our team takes the time to understand your requirements and provide recommendations based on our expertise, so you can make informed decisions about your plumbing, electrical, and HVAC systems.
What Makes Village Home Services the Right Choice?
At Village Home Services, we prioritize understanding our customers' needs and are dedicated to providing top-notch services at affordable rates.
When you choose us, you can have peace of mind knowing that we offer the following:
Seasoned technicians: Our certified technicians are backed by 100+ years of combined experience, so you can trust we have the knowledge and tools necessary to handle any service.
Superior workmanship: We take immense pride in our work and consistently strive for excellence in all aspects of our services.
Competitive pricing: Our customers deserve access to premium HVAC, plumbing, and electrical services without straining their budgets. Thus, we offer competitive pricing along with flexible financing options to make our services accessible to all.
Prompt and dependable services: We are committed to arriving on time and completing every job promptly, all while adhering to the highest standards of workmanship.
You deserve nothing less than the best! Call (978) 733-9593 for superior plumbing, HVAC, and electrical services in Lowell.